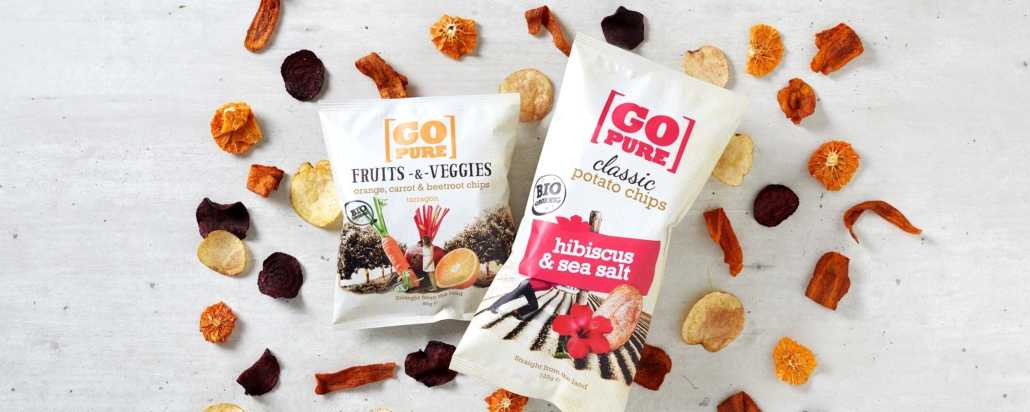 ORANGE DELIGHT
The story of this delectable Fruits & Veggies starts with tarragon. Fresh and aromatic, with undertones of anise and vanilla and just a hint of pepper. We thought it was a wonderful flavour to add to our organic beets and carrot chips. But the story didn't end there. It seemed as if the tarragon wanted something more. Something sweet, something sour, something different. When our chips makers tried adding the rich flavour of dried bits of orange, that's when everyone started smiling. And the rest of the story? That's for you to taste and tell!
FLOWER POWER
A connoisseur like you doesn't need to be told that flowers aren't just gorgeous to look at, but can tickle the taste buds as well. Take the petals of the Hibiscus flower: tangy and sweet at the same time. World-famous chefs use the petals to augment their most exquisite dishes. And of course that tickled our chips makers' imagination. Go ahead and try our new GoPure Classis Hibiscus: wafer thin crunchy chips, with the summery sensation of Hibiscus flowers. It's a wholly new take on flower power!
https://www.yellowchips.nl/wp-content/uploads/2019/03/logo_v2.png
0
0
vegetable
https://www.yellowchips.nl/wp-content/uploads/2019/03/logo_v2.png
vegetable
2019-03-20 19:07:19
2020-04-03 11:13:19
How's that for flavour? Has Yellow Chips set the trend for 2019 with its new GoPure variants?